Description
MAMBA F722 APP MK1 I2C WIFI  FC
Diagram Link From Help Centre Link
Note:Since STM32F722 heat large , please leave at least 5mm interspace at both sides of the FC with nothing covered to make sure a good air circulation.
Update Details:

BT to WiFi
USB power supply can use receiver, OSD
Add a group of I2C pads (SCL SDA)
Add inverter Dual-Way TX serial port
Add 2812 LED switch function, key can turn off led
Add 4 corner LED interface to support BF led and Mamba led
Upgrade to stronger type-C, optimize pad position
FC Specifications

MCU: 216MHz STM32F722RET6 32BIT
IMU: MPU6000
Barometer: No
OSD: BF OSD
Blacbox: 16M Flash Memory
Uarts: 6Set
ESC Soft: Dshot300/600/1200
ESC Telemetry: RX6
LED indicator: Blue&Orange for FC Status,Green 9V,White 5V,Red 3.3V

LED Controller:BF LED/MB LED( 4 Set 2812 LED)
WIFI: SpeedyBee APP 
Smartaudio: Yes
Buzz: Yes
Input: 3~6S Lipo (12.6~25V)
TVS Protection: Yes 
BEC: 5V 2.5A & 9V 2A (Max 3A)
MOUNTING: 30.5mm/M3 WEIGHT: 9g
Supply : 
8pin sh1.0 *1
Smartaudio: Yes
Buzz: Yes

Input: 3~6S Lipo (12.6~25V)
VTS Protection: Yes

 
About SpeedyBee Function:
For  WIFI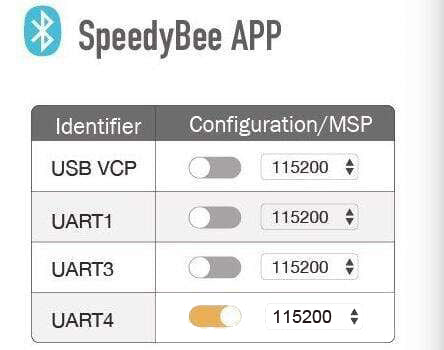 Payment & Security
Your payment information is processed securely. We do not store credit card details nor have access to your credit card information.