Description
Features:

MAMBA Basic F405 MK3
Diagram Link From Help Centre Link
Fixed
Add I2C function
When you connect the USB, the receiver and OSD settings can be saved
Increase the pad area
LED signal selection (when Mamba Led sys avaiable)
BEC short circuit protection
TVS instant high voltage protection 30V
Update
Upgrade the anti-interference cable
Use Typec(Most)
The pad area of the Mini flight controller (20×20) increased by 140%
Added
Add self-recovery insurance to the receiver's 5V power supply.
Increase the camera VCC power supply pad.
The standard flight controller (30.5×30.5) adds a spare pad.
Gyro uses an independent Low Dropout Regulator (Low Dropout Regulator) and reduces ripple interference.
 Specification:
Mamba Basic F405 MK3 FC
MCU: 168MHz STM32F405RGT6

IMU: MPU Series Six-Axis
Barometer: Yes
OSD: Yes
Blackbox: 16M Flash Memory
Uarts: 6Set
ESC Soft: Dshot300/600/1200
ESC Telemetry: Yes
Power Led: Yes
LED Controller: BF LED/MB LED( 4 Set 2812 LED)
F.Port: Yes
RSSI: Yes
Buzz: Yes
Input: 3~6S Lipo (12.6~25.2V)
TVS Protection: Yes
BEC:3.3V 0.5A&  5V 3A  (System Power))&                           
5V 3A(LED )& 9V 3A
MOUNTING: 30.5mm,M3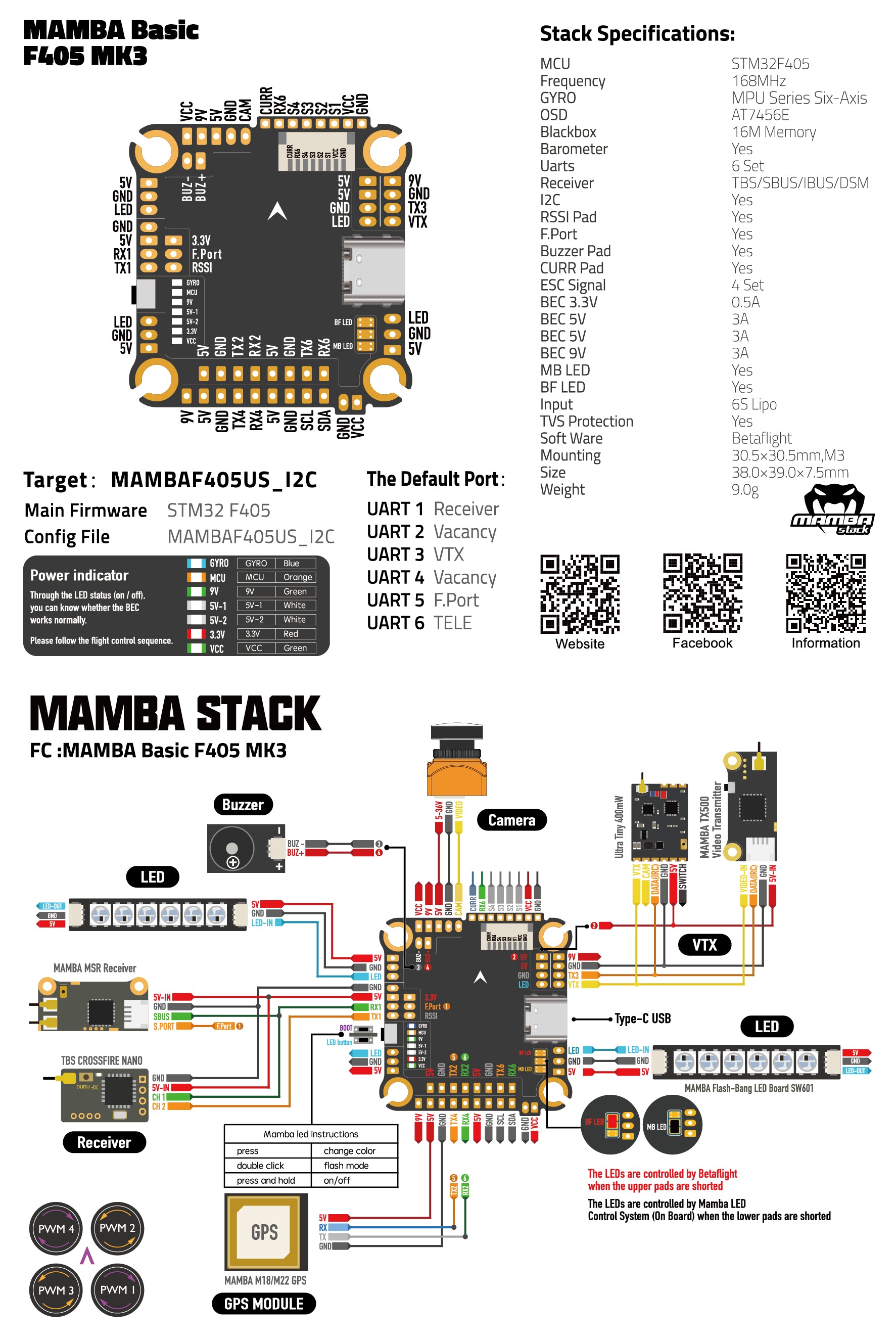 Payment & Security
Your payment information is processed securely. We do not store credit card details nor have access to your credit card information.